Kite mobile¶
Login¶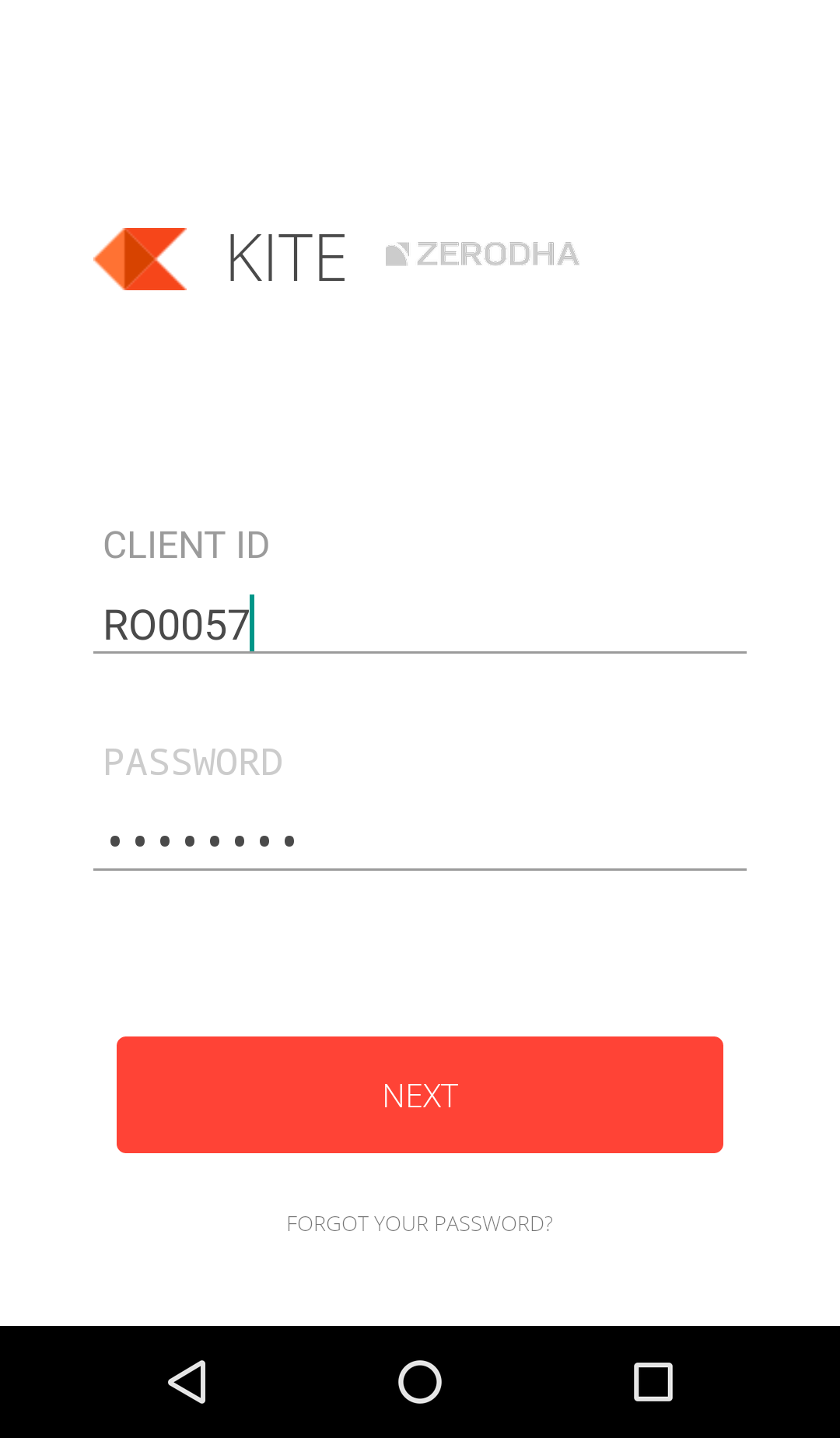 Enter client ID and password.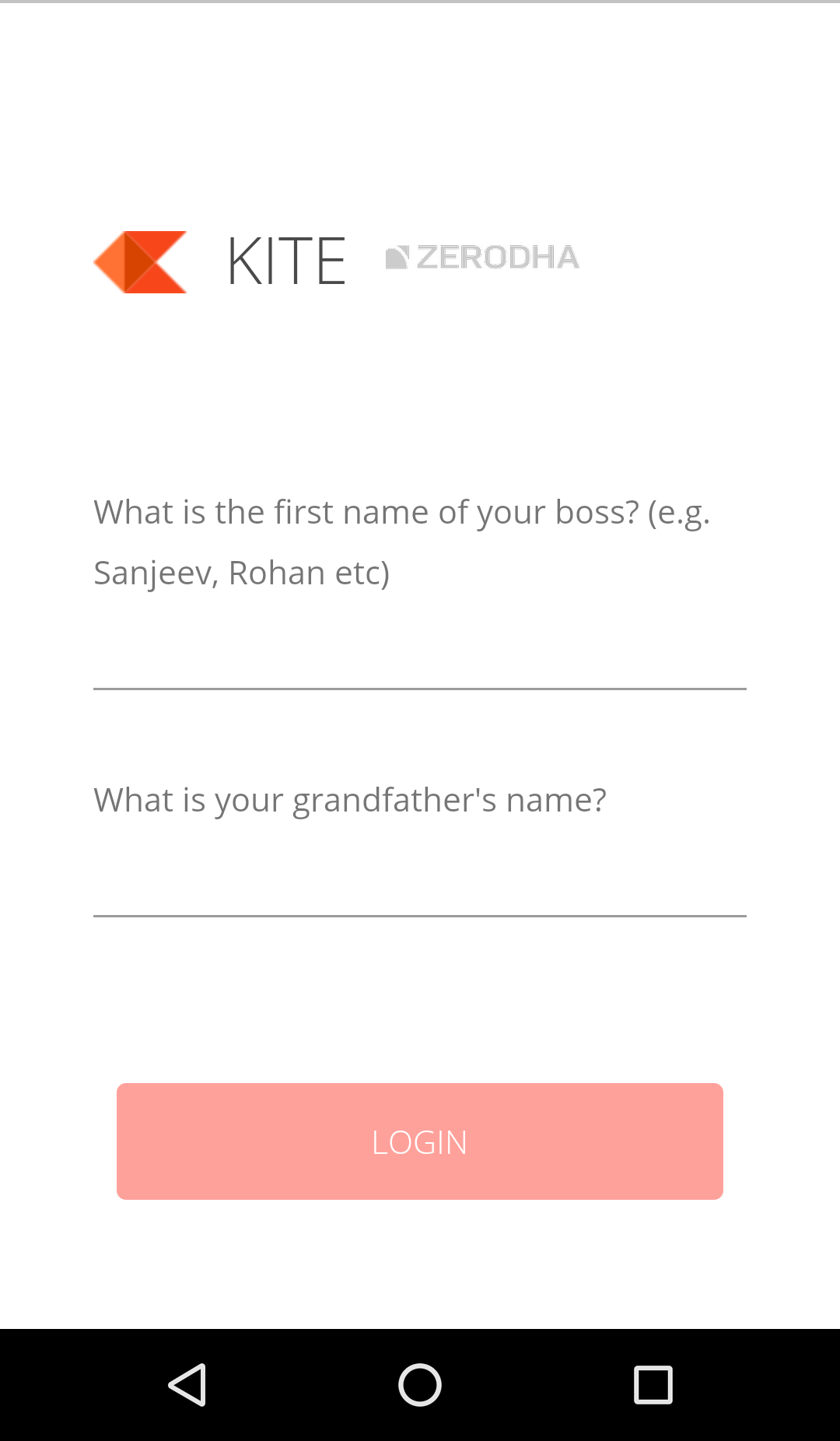 Answer 2FA questions.
Marketwatch¶
Adding scrips¶
To add scrips, type the name of the scrip in the universal search bar and add by clicking on the desired result.
Examples to search and add scrips onto marketwatch
To add Nifty index either search for index, or nifty 50 index, select and click on +. Similarly search for any other indices.

To add Reliance BSE, just search for Reliance BSE.

To add Banknifty 16th June 17000 CE (weekly option), search for Banknifty 16 June 17000 CE.
Deleting scrips¶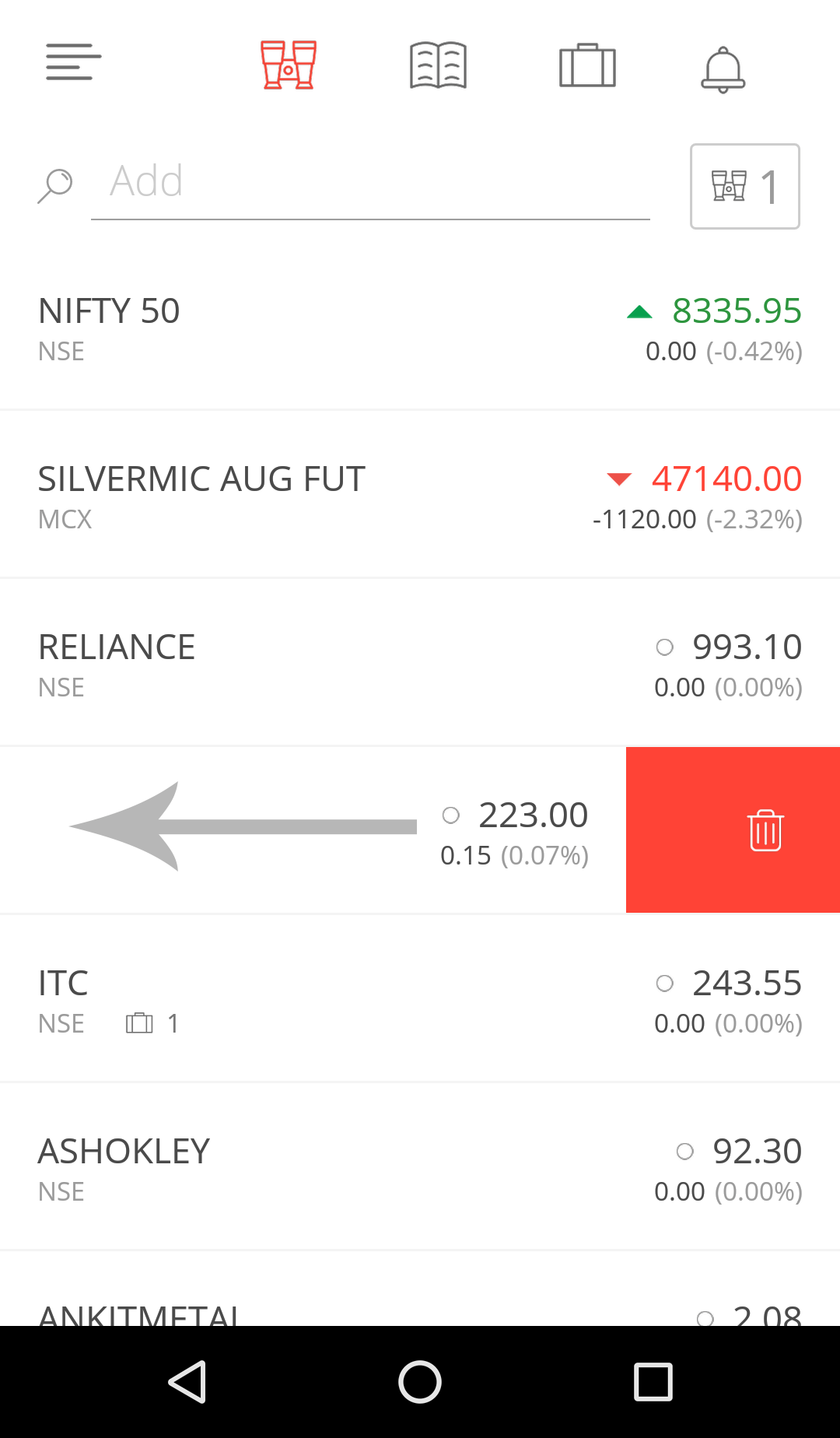 Android users: Delete scrips by swiping left on the marketwatch.
iOS users: Long press on the scrip and tap the delete icon next to it to delete from marketwatch.
Rearrange marketwatch¶
Long press on the marketwatch to enter the rearrange view. Rearrange scrips on this screen by dragging scrips to the desired position using the icon on the right.
Switching marketwatch¶
Kite allows upto 5 marketwatch, each with a maximum of 20 scrips. To switch, click on the marketwatch icon as shown above.
Market depth¶
Click on the scrip to invoke action menu. Invoke market depth by clicking on the "Depth" button.
Funds¶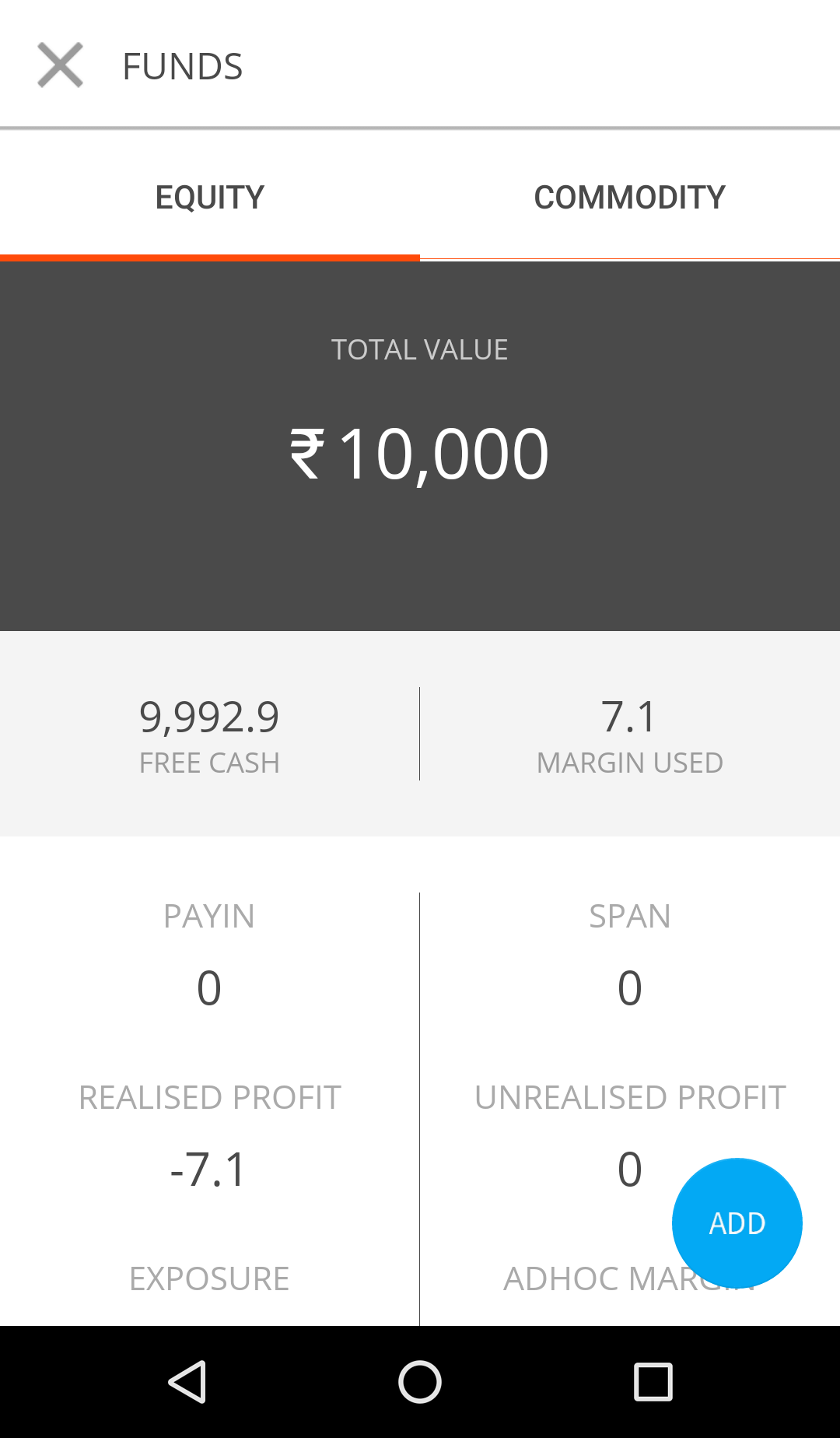 Access the funds page from the navigation drawer by clicking on "Funds". View available account balance, used margin, exposure margin, and more. Add more funds by clicking on "Add".
Order window¶
Invoke order window by clicking B or S.
Click here to learn more on order types.
Click on Advanced to initiate Bracket, Cover, and AMO orders.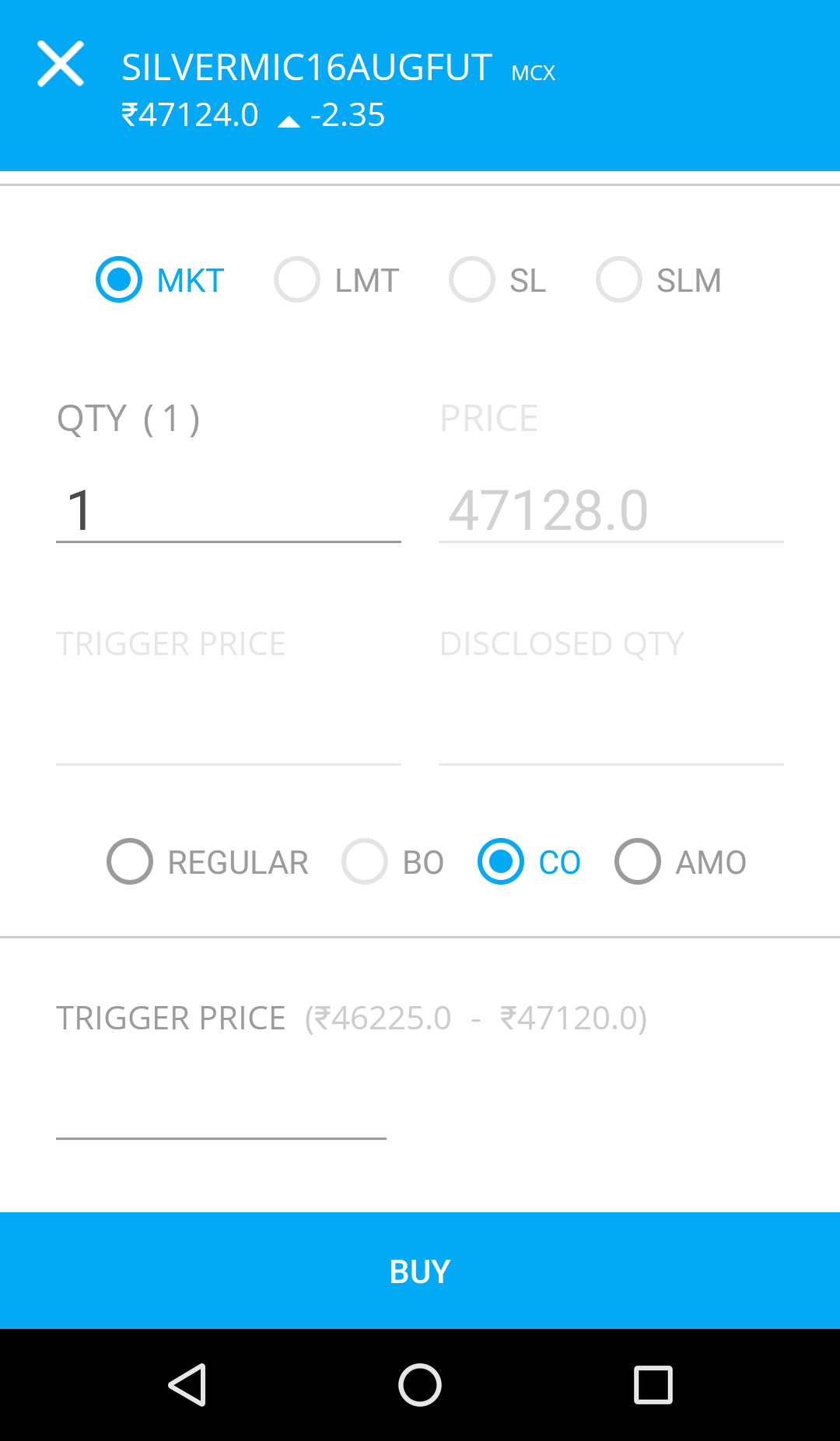 To know more on these order types, click here.
Orderbook¶
Access the order book from the navigation drawer by clicking on "Orders" or the icon on the top bar. Order book shows pending and executed orders.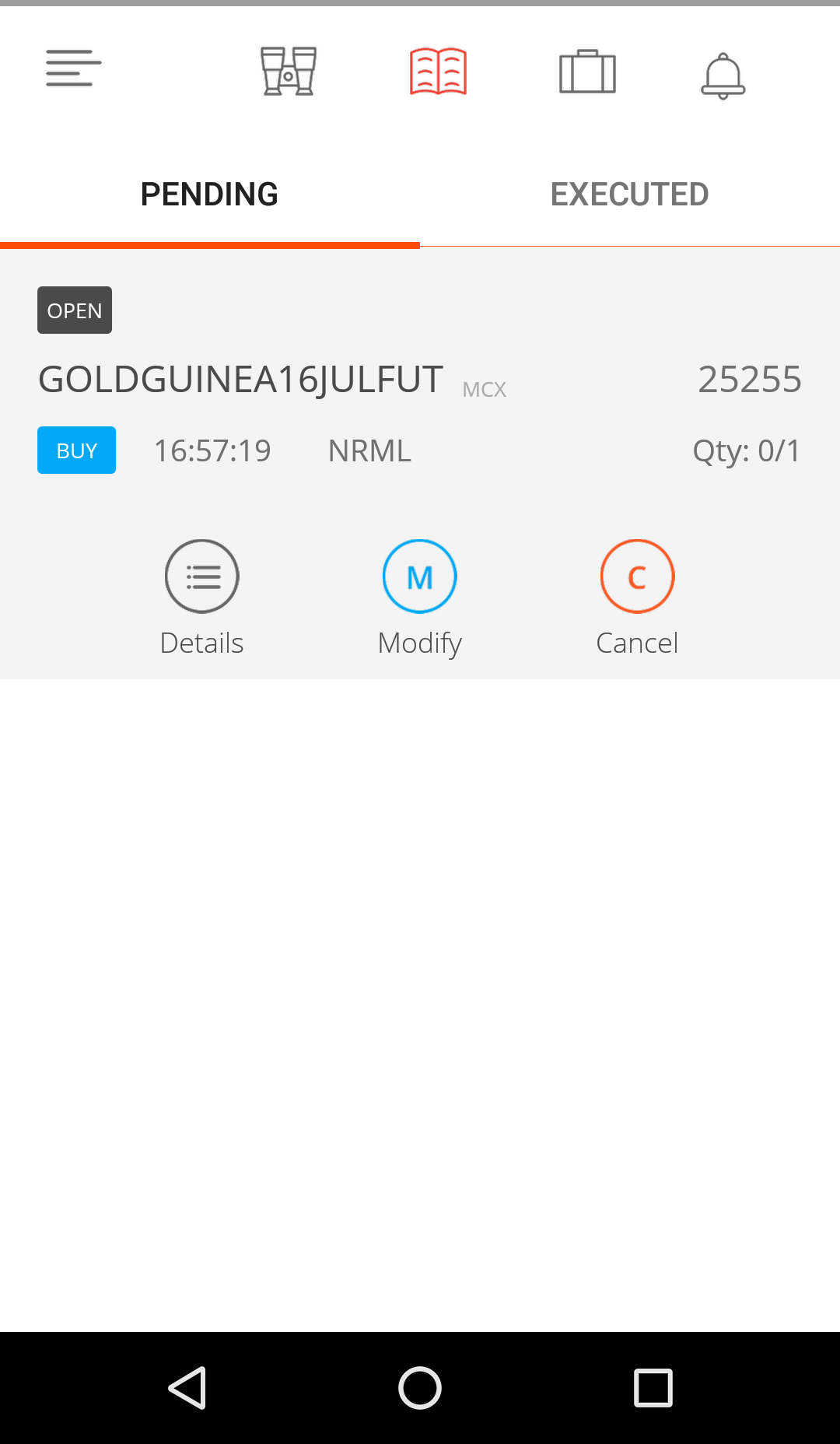 Modify or cancel pending orders by tapping on the order in the orderbook.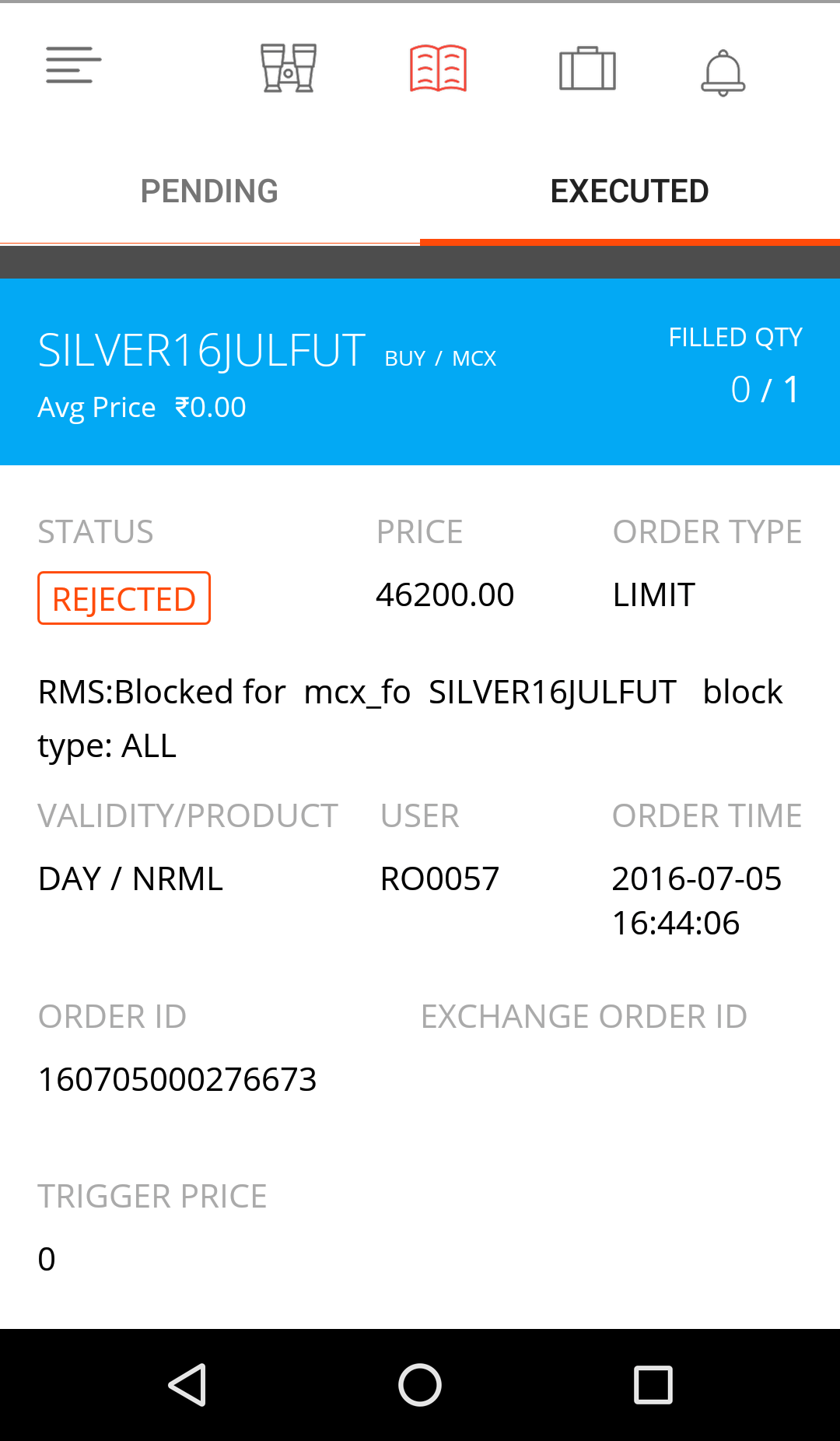 Tap on individual orders to check status, executed price, and any rejection reason.
Portfolio¶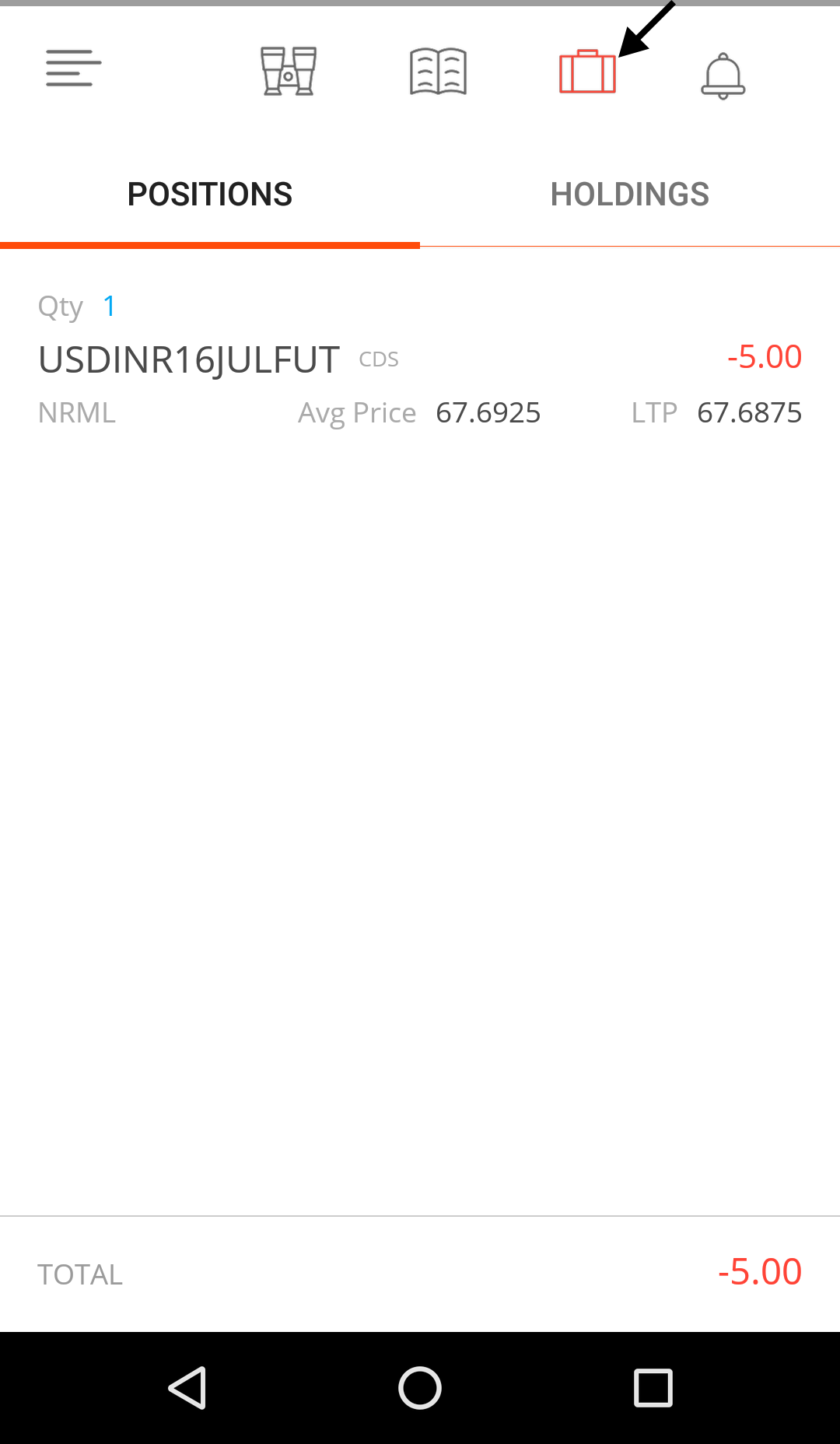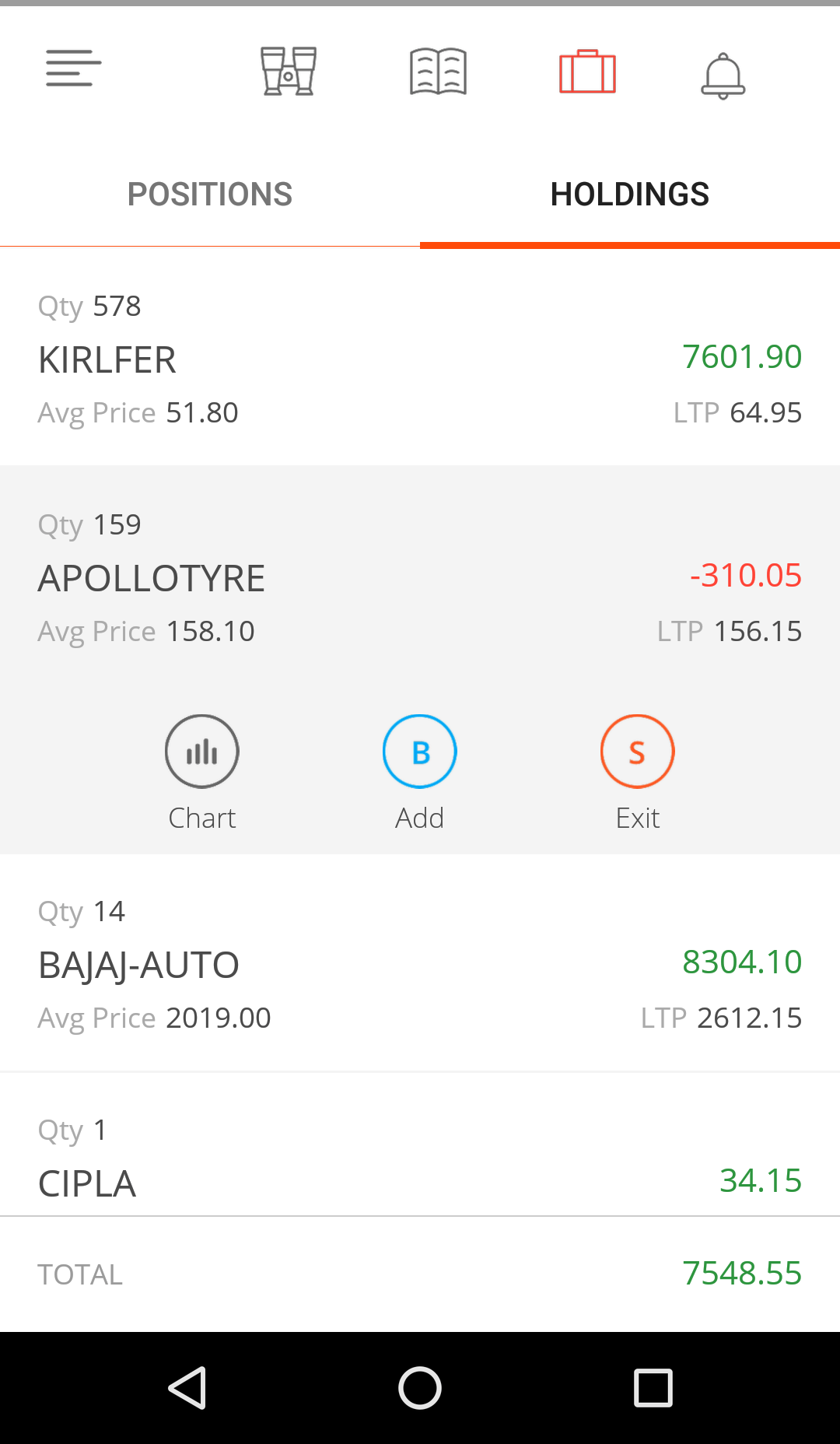 View positions or stocks by clicking on "Portfolio" in the navigation drawer or the icon on the top bar.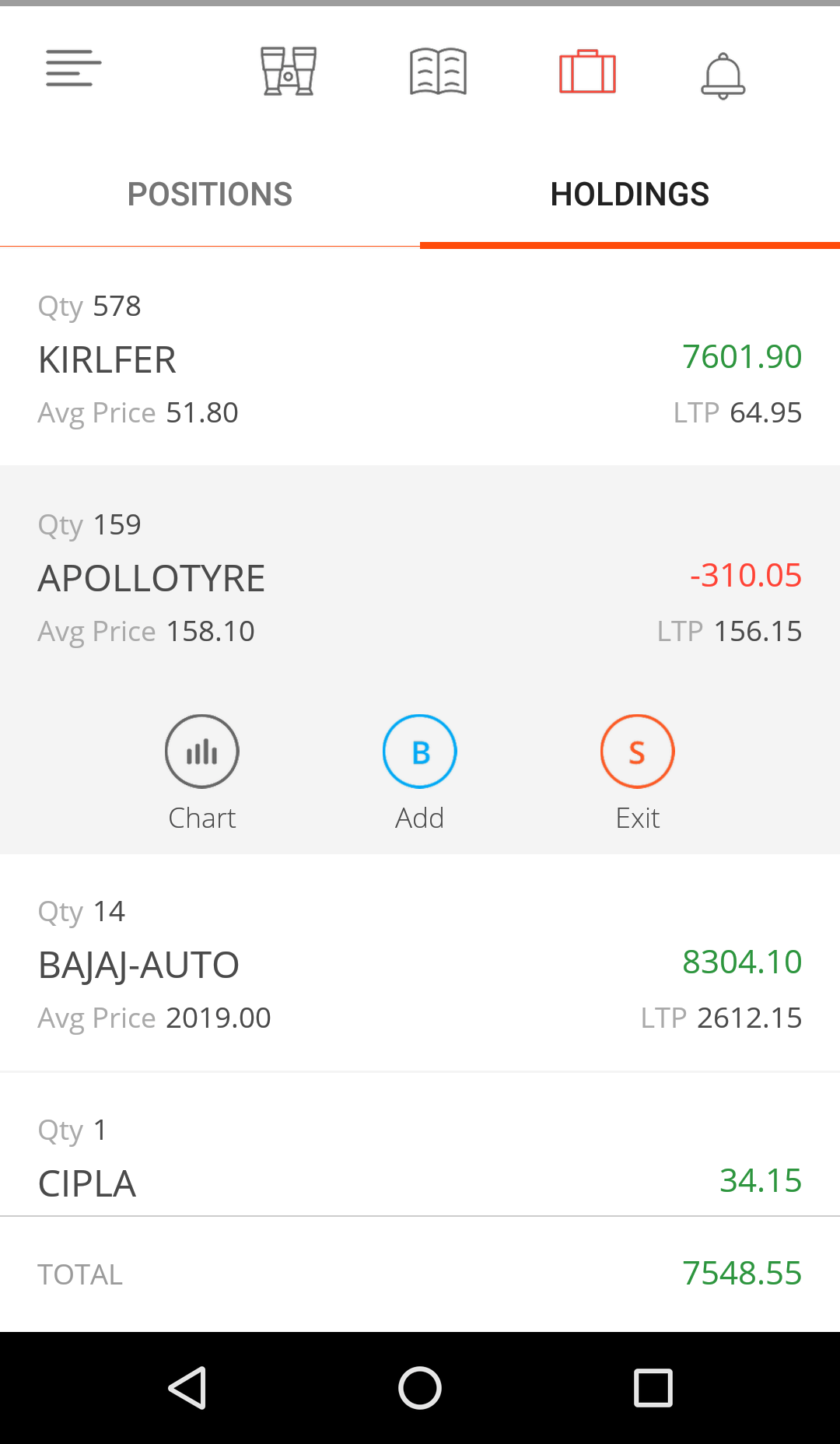 Manage positions and holdings from the portfolio screen by tapping on any scrip. View charts, add or exit.
Convert positions¶
Tapping on open positions allows converting positions from intraday to positional or vice versa.
Charting¶
Invoke charts by clicking on the "Chart" button.
Change timeframes, chart styles, add indicators and drawing as shown below.
Buy or sell from the charts by clicking on the "+" button.
Click here to know more on Kite charting.
Note
Make sure to turn off crosshair or swipe using two fingers horizontally to scroll the charts.
Notifications¶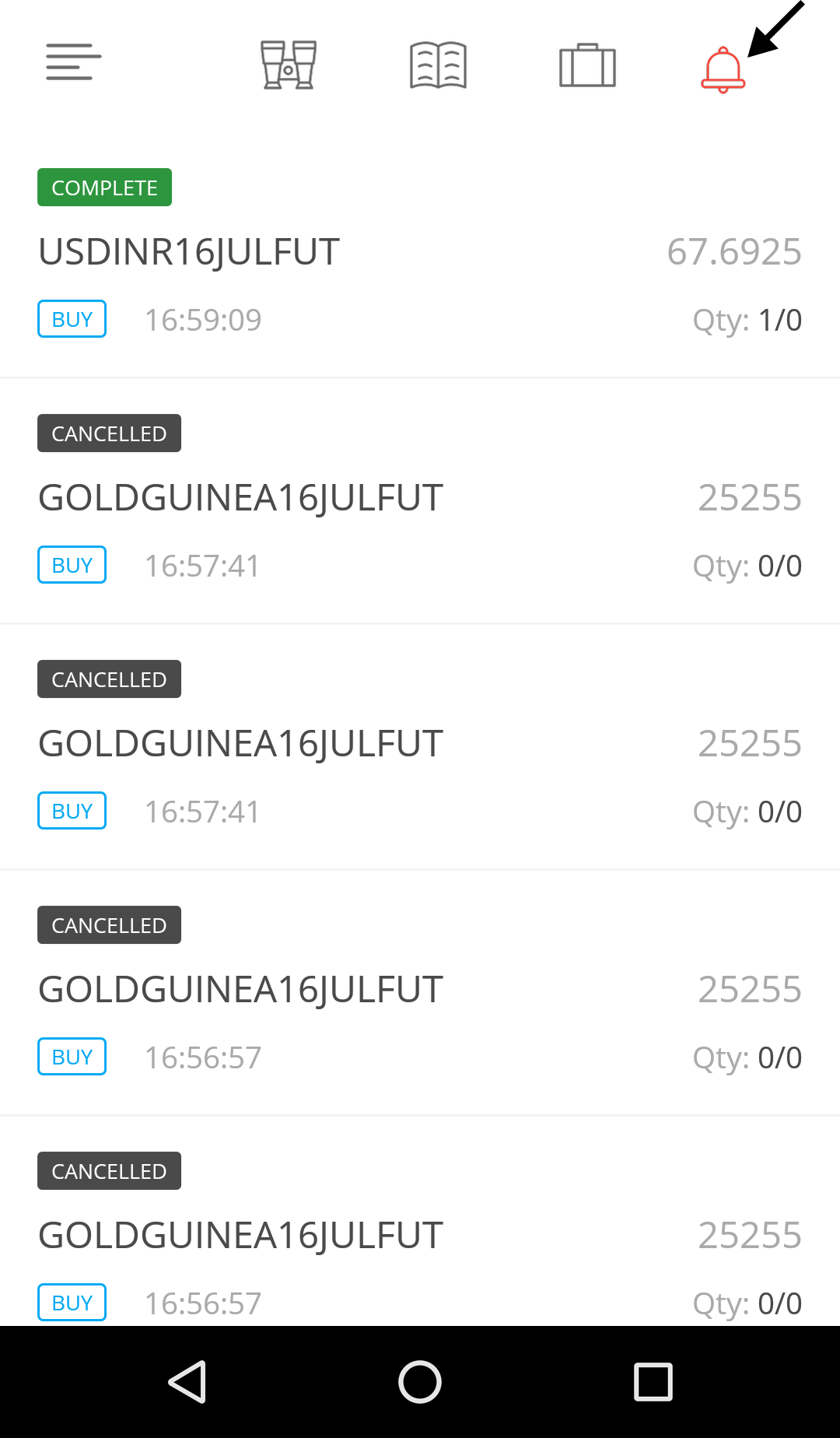 Access the notifications tab from the navigation drawer by clicking on "Notifications" or the icon on the top bar. This tab shows order updates - executed, cancelled or rejected.