Kite mobile¶
Login¶
Enter client ID and password.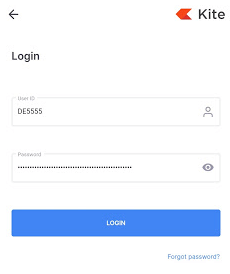 Enter the PIN.
If fingerprint login is enabled, enter the PIN only for the first login of the day and use fingerprint auth to login thereon after.
Marketwatch¶
Adding scrips¶
To add scrips, type the name of the scrip in the universal search bar and add by clicking on the '+' sign on the right of the result. Add as many scrips as required in one go.
--Examples to search and add scrips onto marketwatch-- To add Nifty index either search for 'index', or 'nifty 50 index', select and click on +. Similarly, search for any other indices. To add Reliance BSE, just search for Reliance BSE. To add Banknifty 16th April 27000 CE (weekly option), search for Banknifty 16 4 27000 CE.
Edit marketwatch¶
Long press on the marketwatch name or any marketwatch item to enter the edit view. Rearrange scrips on this screen by dragging scrips to the desired position using the icon on the left. Delete scrips by tapping on the icon on the right. Rename the marketwatch on the top.
Sort & filter¶
Tap on the sort & filter icon on the top right to sort the marketwatch or filter items. Save the order of the scrips after sorting by tapping on the save icon. Note: The save icon is disabled when a filter is applied.
Switching marketwatch¶
Kite allows up to 7 marketwatches, each with a maximum of 50 scrips. Swipe left or right on the marketwatch to switch.
Market depth¶
Tap on any marketwatch item to see the market depth, place orders, invoke charts or other widgets.
Widgets¶
Discover apps built by Zerodha or our partner startups for enhanced trading and investing experience.
Use widgets to set alerts, view fundamental data, technical data and option chain for option contracts. Simply tap on any scrip in the marketwatch and scroll to the bottom of the action menu to access widgets.
Holdings breakdown¶
Click on "View Report" on your holdings and positions tabs to view detailed breakdowns on Console.
Kite alerts¶
Create real-time market alerts on any data point and combination, on the cloud. With Kite alerts you can create simple alerts or alerts based on "if this then that" conditions. Learn more
Fundamentals by smallcase¶
Get a fundamental overview of stocks with the respective stock and sectoral price to earnings (PE), price to book (PB) and Dividend Yield. Check the news headlines and upcoming events affecting the stock.
Option chain by Sensibull¶
View option chain and greeks for F&O.
Technicals by Streak¶
Get a quick technical view on all the securities you are tracking right from the watchlist. Learn more
Order placement¶
Tap on any scrip to invoke the order placement window.
Orderbook¶
See all open an executed orders on the orders screen. Swipe to switch between pending and executed orders. Tap on any order to see details, modify or repeat an order.
Pin scrips¶
Pin favourite scrips to the top of the screen and see an overview of your account in one place.
Exit multiple positions¶
Long press on the pending orders screen to select multiple orders and cancel them together.
Portfolio¶
See all holdings and positions. Swipe to switch between holdings and positions. See a quick summary(invested amount, current value & P&L) on top of the screen.
Holdings¶
Add to or exit your holdings. Tap on any stock to transact. Tap on any stock in holdings to see details like invested amount, P&L, market depth, widgets and more. View the holdings breakdown, i.e., when a breakdown of when the held stocks were bought. See the day's P&L of the holdings at the bottom of the holdings screen.
Positions¶
Add to or exit your positions. Tap on any position to transact. Tap on any position to see details like market depth, widgets and more. Tap on any position and swipe up to convert position. Long press on the positions screen to select multiple positions and exit all at market price.
Convert positions¶
Tap on an open position and scroll up to see the 'convert position' button. Use this to convert an intraday position to positional or vice versa.
Account¶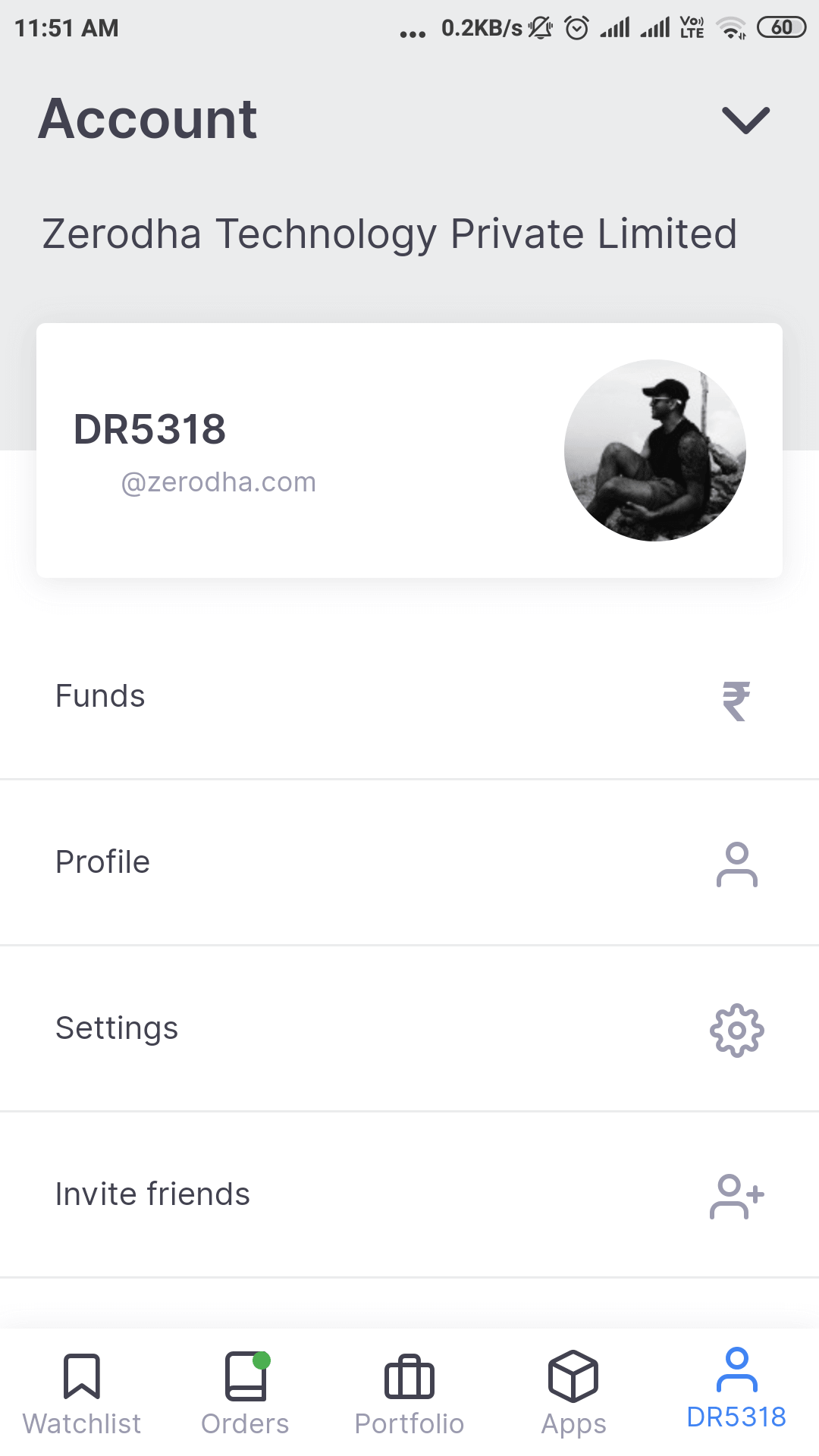 View and edit your preferences here.
Funds¶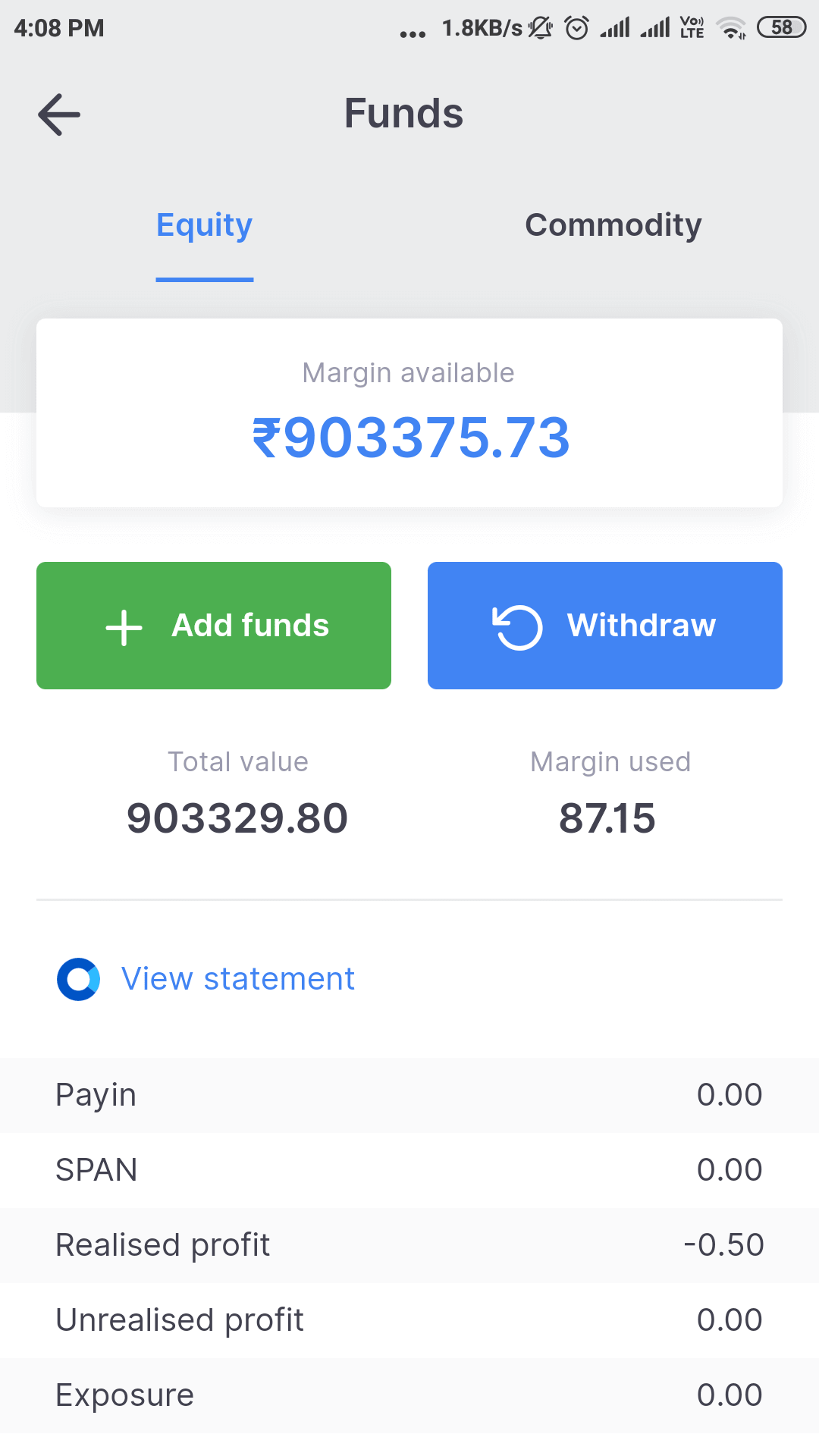 Tap on 'Funds' to see account balance and add funds to the trading account or place a withdrawal request. View the account ledger by clicking on 'View statement'.
Profile¶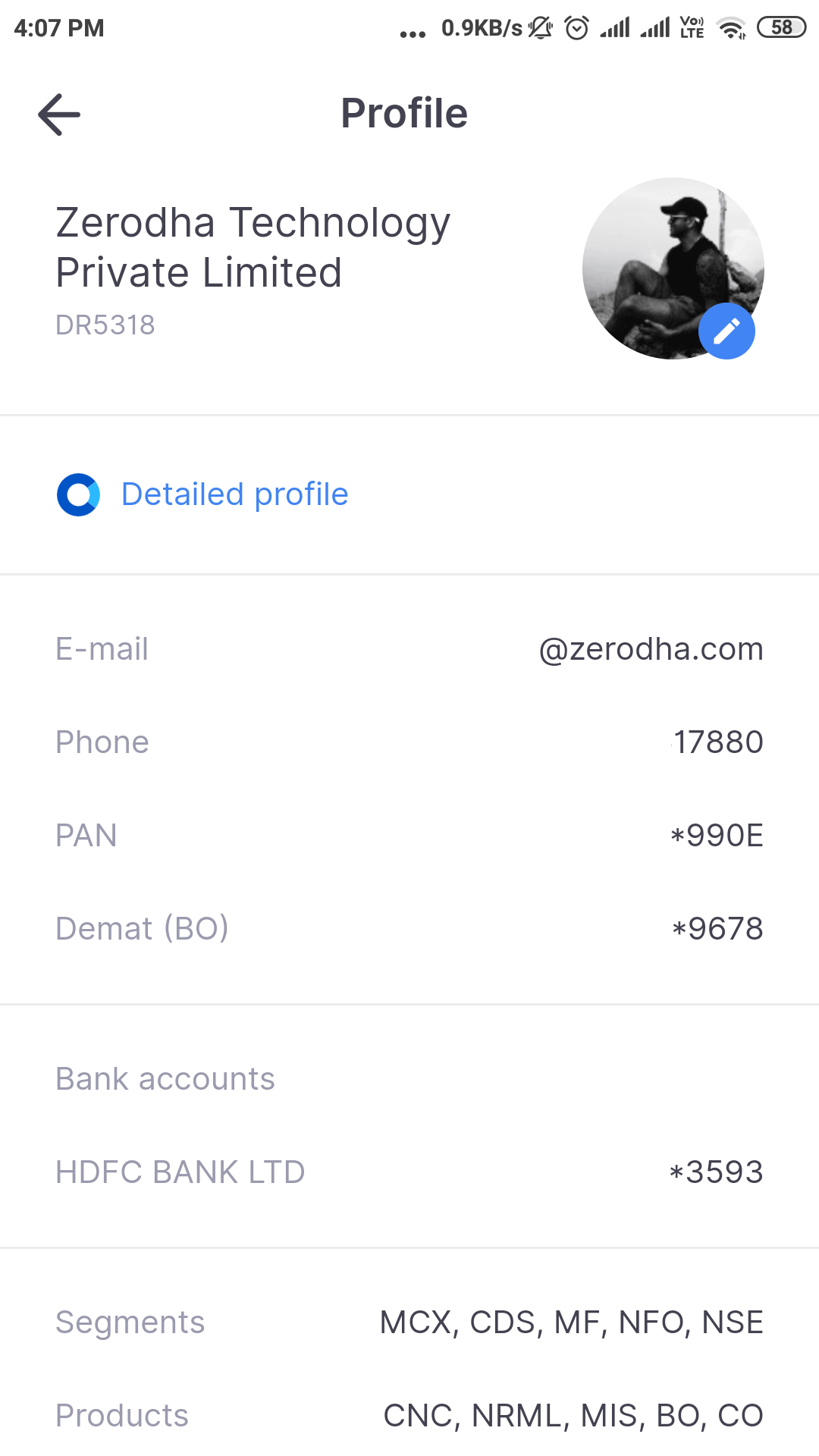 See all details like email ID, mobile number, PAN etc., linked to your trading account. Click on 'Detailed profile' to see your support code (required to call our support phone line) or change your email ID & mobile number. Click on the profile image to change the profile photo. Click on 'View active sessions' to see all the active logins for the account. Log out of all active Kite sessions by clicking on 'Clear all sessions'.
Settings¶
Enable or disable fingerprint-based login and order notifications. Choose between ChartIQ and TradingView charts.