Funds¶
Shortcut key – F
Fund transfers and withdrawals can be done from within Kite under the Funds menu.
Payment gateway¶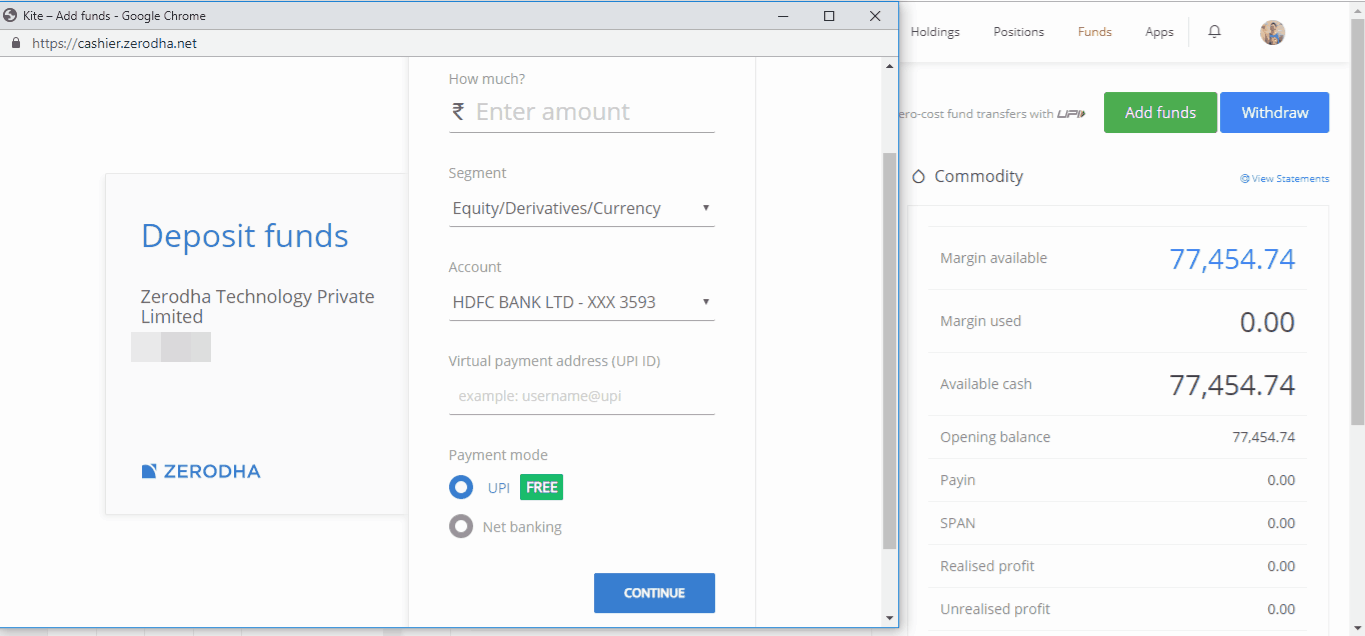 Funds can be transferred instantly from within Kite using the Add funds button from over 20 different partner banks.
Choose to transfer funds either to equity or commodity account.
Equity funds can be used for Equity, Equity derivatives, and Currency trading on NSE & BSE.
Commodity funds can be used for trading commodity derivatives on MCX.
Money once transferred will start showing under Payin column in the funds menu for that particular day.
NEFT/RTGS/IMPS¶
Make sure to visit our website for all details required to transfer using any of the above methods. NEFT/RTGS/IMPS funds transfers aren't instant. It can take anywhere between 30 mins (IMPS) to upto 10 hours (sometimes in case of NEFT) for fund update on the trading account. Read this for more.
Note
Multiple bank accounts of the trading account holder can be mapped for fund transfers either through payment gateway or NEFT/RTGS/IMPS. Courier us cancelled cheque of all the accounts that need to be mapped.
Withdrawal¶
Withdraw button on Kite opens the fund withdrawal request menu on Console (our reporting tool).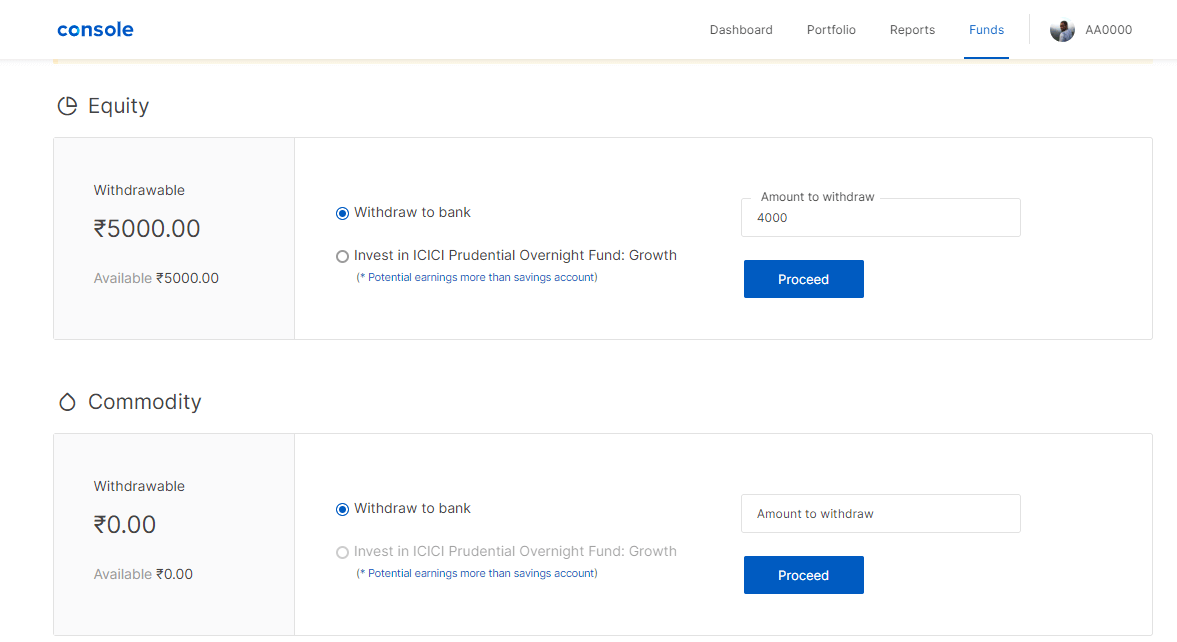 Equity delivery settlement takes T+2 days in India. Cash realized from stocks sold is available under withdrawal balance after 2 trading days.
Equity intraday and F&O settlement take T+1 day. Profit from any intraday equity or F&O trade is available under withdrawal balance from the next trading day.
Note
All equity fund withdrawal requests are processed once every trading day at around 8.30 pm. Any request placed after is processed only the next trading day. So any withdrawal request placed on Friday after 8.30 pm will be processed only Monday which is the next trading day.
All commodity fund withdrawal requests are processed trading days (Monday to Friday) at 8 am. All requests after that is processed only on the next trading day.
All fund withdrawals are processed using FT/NEFT/RTGS. Ideally HDFC bank clients should receive funds same day, and all other bank clients before noon next day. Funds might take much longer to hit the bank account on days like when exchange delays in issuing trade files, special trading days, F&O expiry days, and if we have any technical issues.
Indian banks are now closed for two Saturdays every month. Hence withdrawal requests placed on 2nd and 4th Fridays (for non-HDFC Bank account holders) will get credited only Monday morning.
If multiple bank accounts are mapped to the trading account, all withdrawal requests will be processed only to the primary bank account mapped. To change your primary bank account, follow these steps.
Jargons¶
Margin available: The total margin available for trading is reflected in the 'margin available' field. This includes Cash and Collateral margins.

Margin used: The margin being used in the current open positions along with the effect of any realised/unrealised profit or loss and credit from the sale of holdings.

Available cash: The balance excluding the collateral component in the margin available is reflected in the 'available cash' field. This is the amount of cash available in your account with which you can buy stocks.

Opening balance: The cash available in the trading account at the beginning of the day.

Payin: When you add funds to your trading account from your bank account, this amount reflects in the 'pay in' field. It also gets added to the 'margin available' to trade.

SPAN: SPAN Margin is the minimum requisite margins blocked for futures and option writing positions as per the exchange's mandate.

Realised profit: Profit/Loss already booked during the day.

Unrealised profit: Profit/Loss in open positions calculated at marked to market prices.

Adhoc margin: 'Adhoc margin' is added to an account in exceptional cases where a transaction might not be going through due to want of margin even though funds may be available.

Exposure: 'Exposure Margin' is the margin blocked over and above the SPAN to cushion for any MTM losses.

Options premium: Options Premium shown under the funds tab in Kite is the total premium paid/received from buying/shorting options. The Cash margin available is inclusive of this amount, but the breakdown is provided here as 'option premium' under the funds tab.

Liquidbees collateral: The liquidbees collateral is the margin received against pledged liquidbees after a haircut deduction. The liquidbees collateral margin can be used to trade futures, and sell options.

Stock collateral: The stock collateral is the margin received against pledged stocks after a haircut deduction. The stock collateral margin can be used to trade futures, and sell options.

Total collateral: The total collateral is the sum total of liquidbees collateral and stock collateral.