Portfolio¶
View stock holdings and F&O positions along with average entry price and live P&L.
Holdings¶
Shortcut key – H
Stocks bought as CNC (equity delivery) start showing up in holdings from the next trading day (shows up in position tab on the day of purchase). But settlement cycle for stocks in India is 2 days (T+2), so stocks will be in the demat account only after two days from purchasing. Until stocks are delivered, they show up as T1 holdings (check the image below).
Read this post that explains the risk of selling stocks before taking delivery or when they are showing in T1. This is also called ATST (Acquire today sell tomorrow) or BTST (Buy today sell tomorrow). All stocks are allowed on ATST/BTST as long as they are not in the T2T/BE category set by the exchanges. Stocks in T2T/BE are allowed to be sold only once they are in the demat account.
If both holdings and T1 of a stock held. When sold, stocks which are in demat debited first.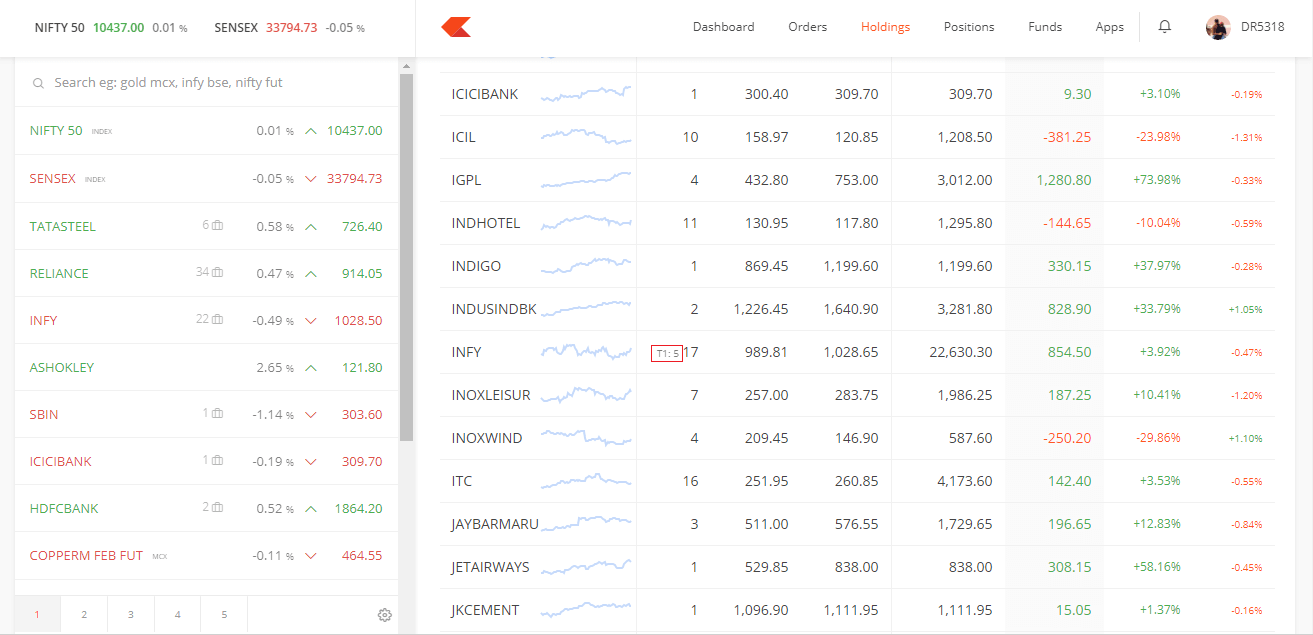 Holdings can be downloaded as CSV/excel file. Historical link initiates Console where holdings as on a particular date can be checked. Console also gives holding period to determine long (>365 days) and short term gains for taxation purposes. If a particular stock bought in multiple trades, when selling FIFO (first in first out) method has to be followed to determine if long or short term capital gain.
Sparklines show you a brief overview of how stocks in your holdings have performed in the last 52 weeks.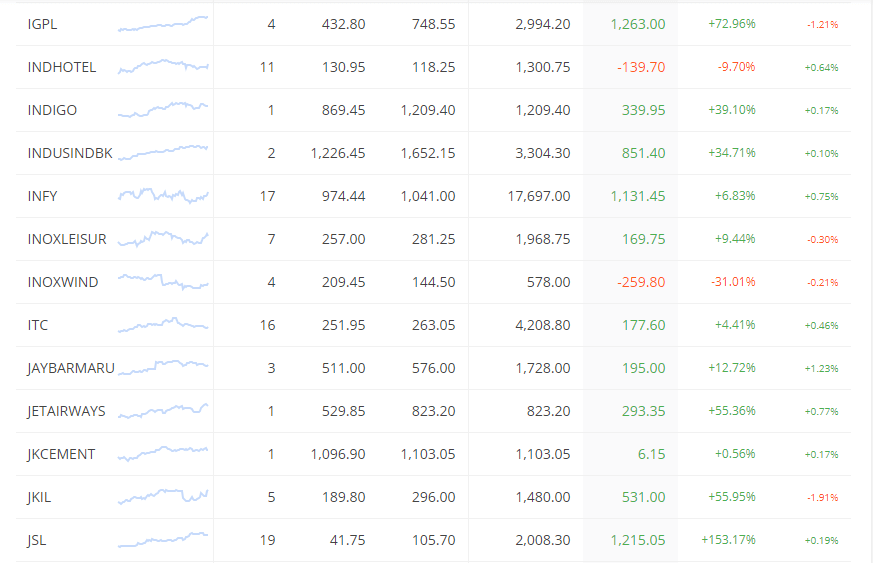 Universal context menu¶
You can add/exit holdings, view charts, check the market depth and the stock widget from holdings. Click on the "..." button to invoke this menu.
Holdings breakdown¶
Click on "View Breakdown" in the context menu to check if the stocks you are holdings are long term or short term holdings.
Exiting holdings¶
Exit by either of the methods below
By initiating a sell order using product type CNC through the marketwatch.
Mouse over on the stock in the holdings menu and click on the Exit button from the Options dropdown (By default, orders will be placed on NSE).
Note
Holdings once sold will start showing up as a negative quantity in the positions menu until end of that particular trading day. If required, this allows buying back the stock sold before the end of day treating it as an intraday trade. All such buy back within the trading day will be considered as an intraday trade when calculating STT and all other charges. The holding period will also remain un-affected. If no intent to buy back the stock after selling from holdings, disregard CNC sell in positions window on the day the stocks are sold.
Positions¶
Shortcut key – P
Track, monitor, act on all F&O and intraday equity positions in a single window.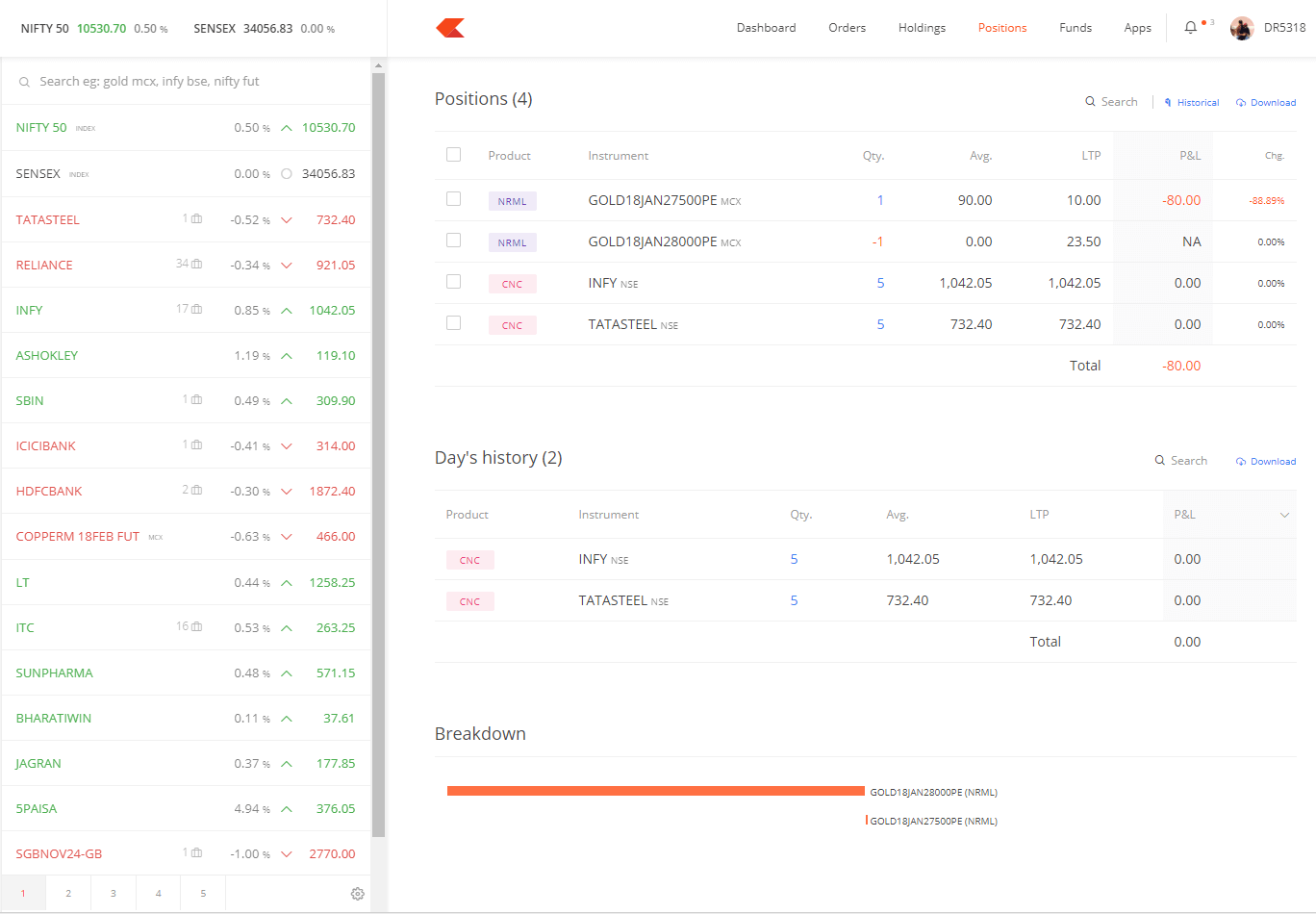 MIS (Intraday), and CO (Cover) are intraday products auto-squared off before end of day. Check this post for our margin policy.
Position conversion¶
MIS (Intraday positions) can be converted to NRML/CNC (Overnight/delivery) by clicking on ">"
Cover orders can't be converted using position conversion to CNC/NRML. CO positions can be exited and new CNC/NRML positions can be taken to carry forward to the next day.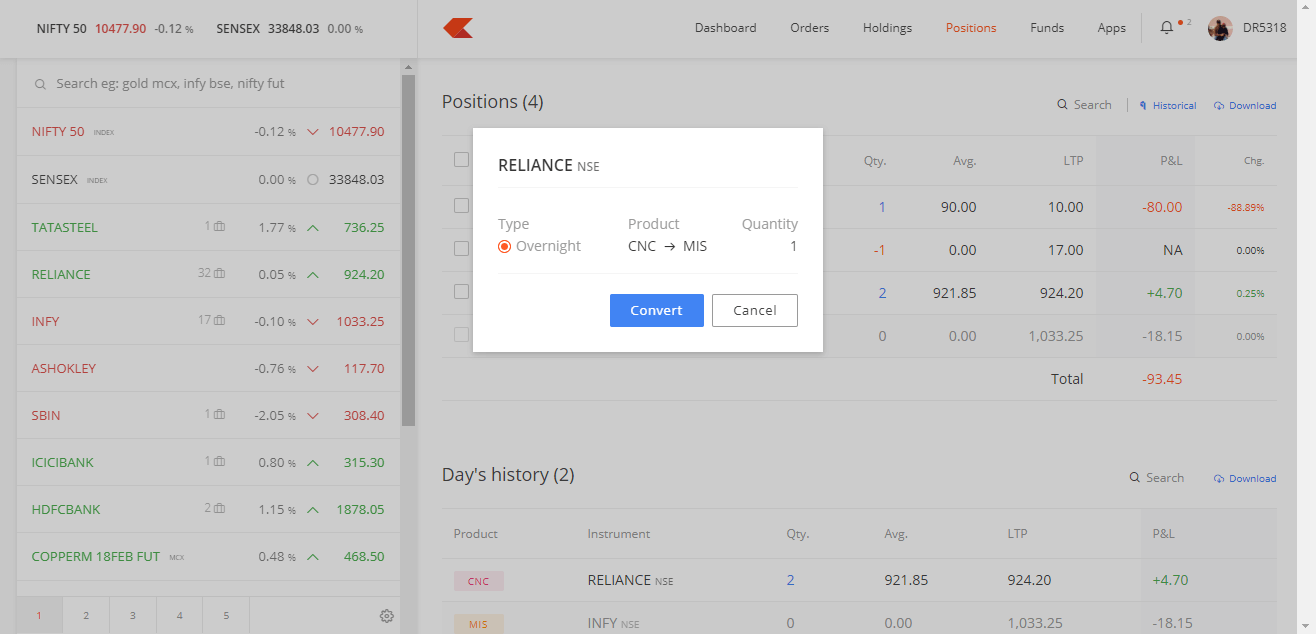 Exiting positions¶
Exit by either of the methods below
Place an opposite order for the position held. Ensure while placing an opposite order that same product type is used. So for example positions bought as NRML needs to be exited as NRML. If by mistake entered as MIS, it would get considered as two separate positions.
Mouse hover on the positions or click on the > as shown in the image above.