Marketwatch¶
Dashboard¶
Shortcut key - A
Overview of the account, with a tree map visualization of stock holdings based on invested amount, current value, and P&L. Horizontal bar graph to view the most profitable and loss making positions. Mouse over visualizations to see the values.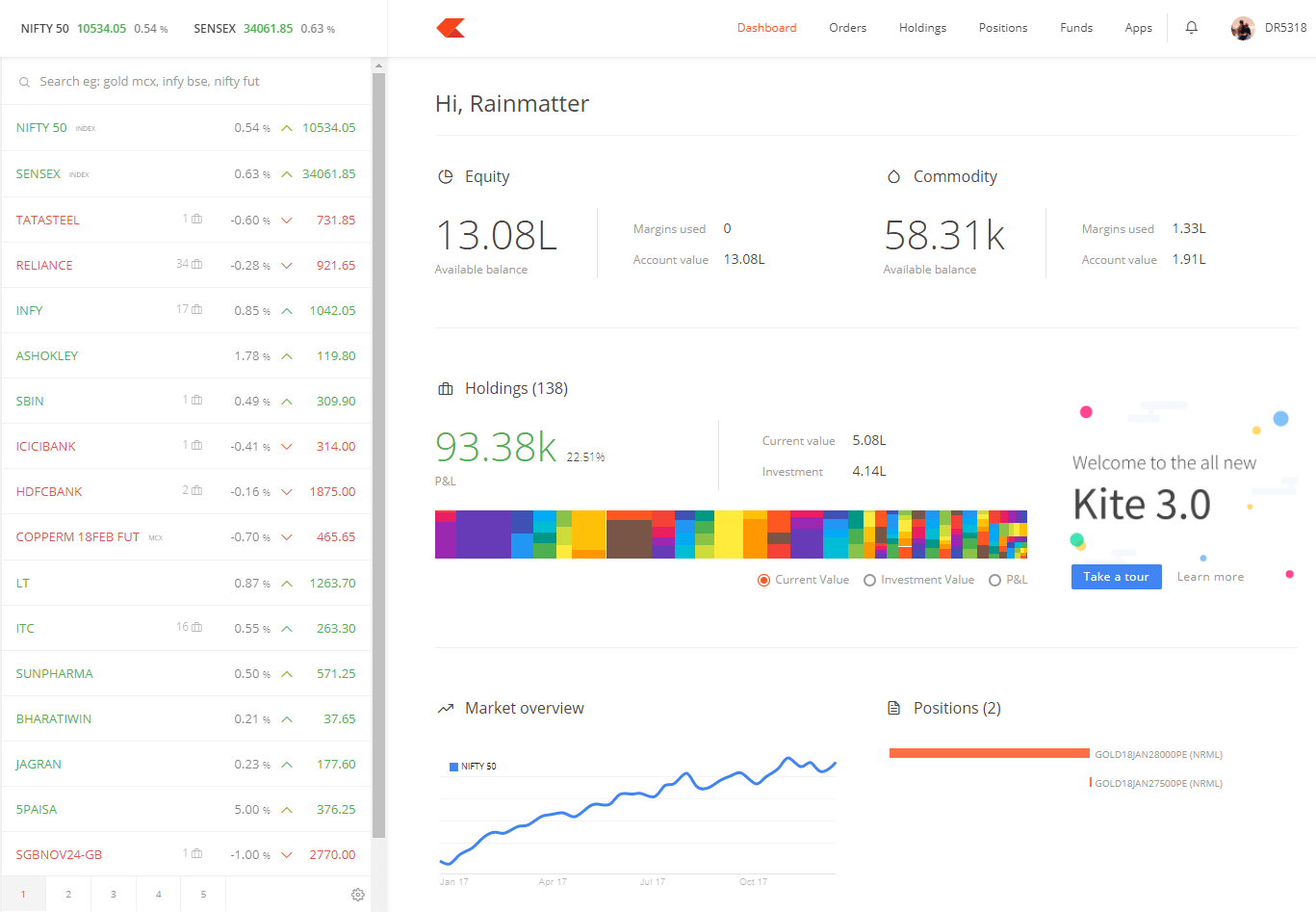 Pin stocks and indices¶
Pin your favourite scrips or indices globally in the top left header. Nifty and Sensex are pinned in this image.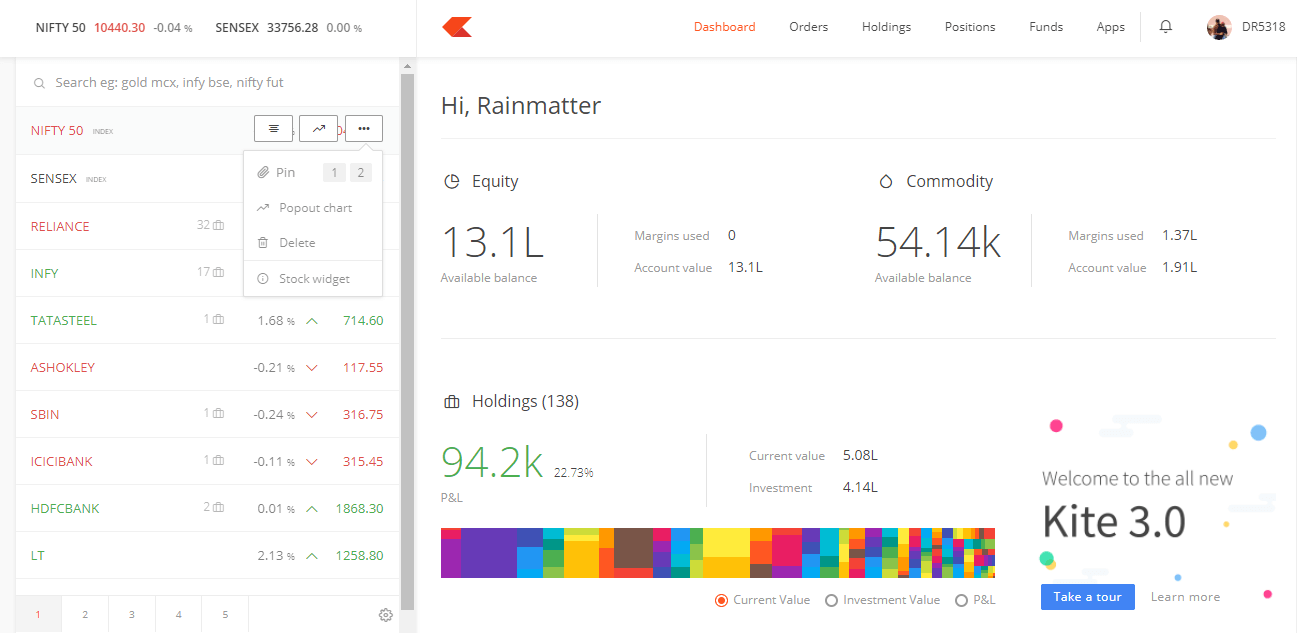 Universal search¶
Shortcut key - ~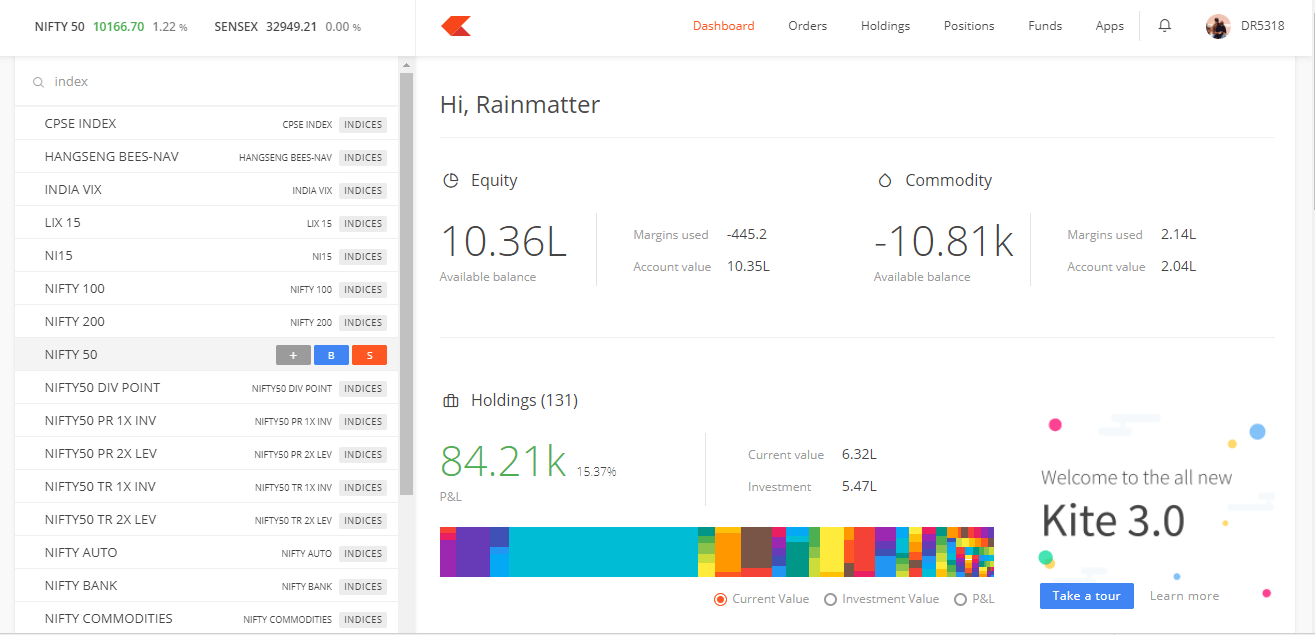 One smart search box to instantly search tens of thousands of instruments and contracts across all segments and exchanges.
7 marketwatch's numbered 1 to 7, with a limit of 50 scrips per marketwatch.
Scrips on the marketwatch with a briefcase icon indicating the quantity of holdings or positions as shown below.

Examples to search and add scrips onto marketwatch
To add Nifty index either search for index, or nifty 50 index, select and click on +. Similarly search for any other indices.

To add Reliance BSE, just search for Reliance BSE.

To add Banknifty 16th June 17000 CE (weekly option), search for Banknifty 16 June 17000 CE.
Use up and down arrow to scroll within the marketwatch. Scrips added auto saved and both Kite web & mobile marketwatch are in sync.
Shortcut key to switch marketwatch – ctrl+shift+1 (1 to 5, based on which marketwatch to switch to).
Market depth¶
Shortcut key – D
Mouse over the scrip on the marketwatch or select and hit D to open the market depth. Market depth gives the best 5 bids and offers. Multiple market depth windows can be opened at the same time. The dynamic market depth bars give you a visual overview of what levels most orders are being placed and you can place an order at any price in the depth with a click on it.
Qty indicates the quantity available for buying/selling at a particular price
Orders indicate the number of orders pending at that particular price on the exchange
O: Open price for the day
H: Highest price for the day
L: Lowest price for the day
C: Closing price of previous day
LTT: Last Traded time
Expiry: For Derivative contracts
OI: Open Interest
OI Day High
OI Day Low
Stock widget¶
Click on the stock widget button to view a fundamental data snapshot for stocks, both in marketwatch and holdings.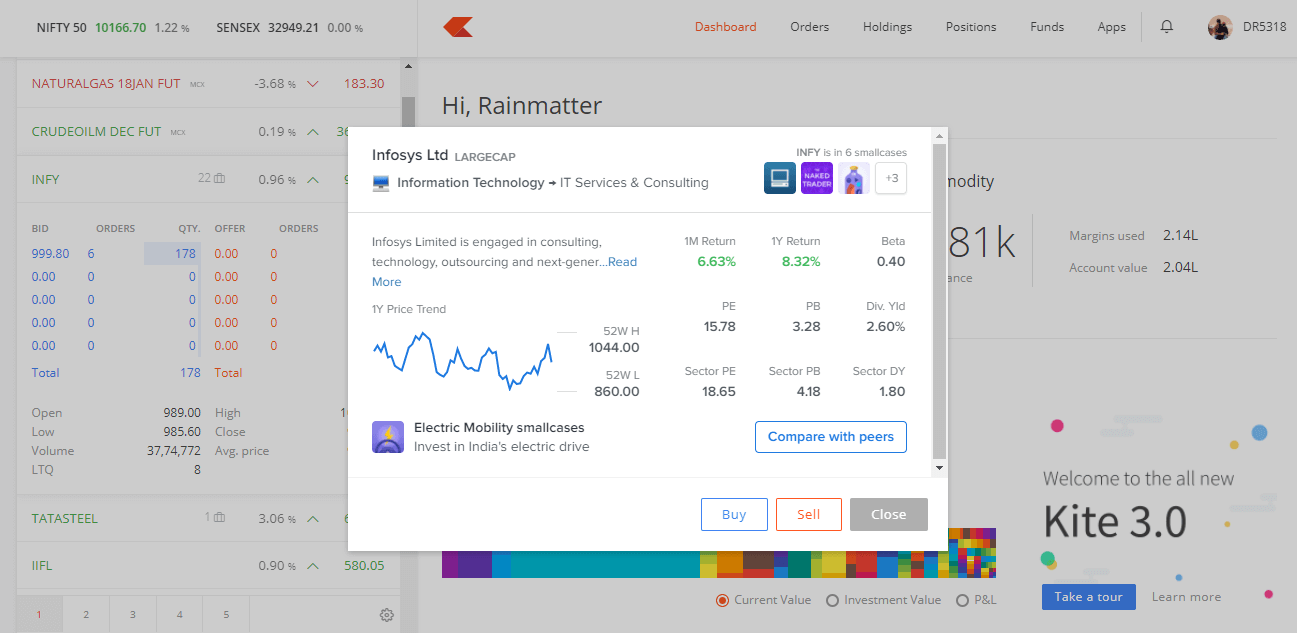 Toggle - price/percentage change¶
Switch between seeing either absolute value of change or % change from previous day's closing price.